Nexty - GTD ToDo List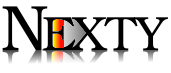 Nexty is a easy to use GTD tool created in PHP. It can be installed in a local server or in a online web server.
The core idea behind this software is simplicity. I wanted to make a GTD tool that is the most easy to use.
Demo
See Nexty in action
Download
Installation
Just open a browser and point to the location to where you have extracted the files. The application will install itself. Make sure you have the following details at hand...
Database Server
Database User
Database Password
Database name
Features
Uses Projects/Task method to group tasks
Has Context support
Reminders
Single User/Multi-user modes support
Easy to use
Clean Code
Fast
Nexty Links
License
Nexty is released under BSD License